For a while now, I've been thinking I should throw some of the random product/service/whatever ideas that pop into my head on the blog… things that I think are viable from a business and/or usage standpoint, but things I probably don't have the time/skills/resources to implement.
Todays seems like as good a day as any to start, so here's the idea: Create an iPhone app that allows you to order pizza online.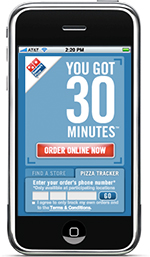 If it were an independent app, maybe it could allow you to select the nearest pizza purveyor and order your favorite pie. The app could also keep track of special offers and coupons which might also serve as a revenue stream (i.e. pizza co's might pay a small percentage as a finder's fee.) Come to think of it, this might work as a standalone website, too.
If the app were developed by a specific brand—say, Domino's—you could incorporate a mobile pizza tracker, 1-click ordering for your favorite toppings, etc.
This idea was sparked by this post via Peter's shared items