Burger King and Mess Marketing recently opened an Art Gallery/Event Space/Think Tank/Hipster artist collective in Chicago dubbed Burger King Studio. The concept is kind of interesting; you can mingle with artists at the occasional event and buy and customize t-shirts on the site. All-in-all, a great fit for BK's well-known "have it your way" brand position, but there are some pieces of this campaign that have drawn a little too much inspiration from the creative community they're aping.
Figure 1 – Inspiration?

This is a shot Burger King Studio's Store side-by-side with Threadless.com — note the similarities in the presentation of the t-shirts, the use of hipster models and solicitations to participate/create your own shirts. Despite the similarities, I could give BK a pass on this one as more of an "inspired by" than a rip-off.
Figure 2 – Rrrrrrrip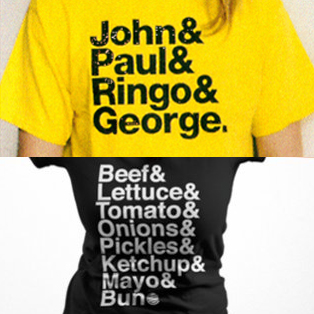 Unlike the Figure 1, this example is a 100% rip-off of a classic design created by Experimental Jetset. In fact, this design has been ripped so many times that Experimental Jetset has a section of their site dedicated to cataloging the infractions.
Not only is the t-shirt unoriginal, it kind of made me think of the old McDonalds Big Mac jingle. You know, the one where they sing the ingredients…
Figure 3 – mixed messages
The jingle is about 15 seconds in…
What do you think? Should they get an "A" for going through the effort of trying something new in a well-trod space or is this simply another clumsy corporate co-opting of creative culture?