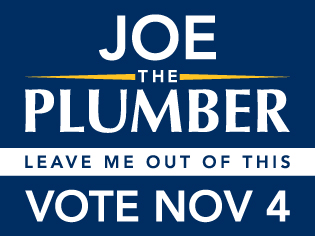 Continuing the recent thread of politically-themed design posts, I've created a campaign sign for Joe the Plumber, a new d-list celebrity introduced to the public by John McCain in the 3rd and final Presidential debate.
As with another recent post, I'm releasing this design with a Creative Commons license, so that anyone can grab the artwork and use it for any non-commercial endeavor (or at least come up with a cleverer slogan).
Vector (.ai), large jpeg

Licensed under a Creative Commons Attribution-Noncommercial-No Derivative Works 3.0 United States License.
For my fellow font nerds, the Obama-like font is Avenir, as I don't have a copy of Gotham handy.